Real estate owners (airports, hotel chains, retail shops, conference centers) spend a significant amount of time and resources on asset management. Examples of such building assets are floors, walls, doors, windows, HVAC systems, electrical installations but also emergency routes.
More and more buildings and infrastructures like airports nowadays have a digital twin in which all real estate assets can be monitored virtually.
Nobleo prototyped an automated solution to recognize hardware assets (in this application it was about emergency signs) in the available image data. The automated asset recognition is used to extend the functionality of the digital twin:
Ensure that the digital twin is kept up to date over time
Automatically detect changes in assets over time (broken lamps, emergency signs, etc)
An integrated solution was proposed that links the object recognition with existing asset management models and tools such as Building Information Modelling (BIM) to ensure that the solution fits into the existing workflow. By adding automated object detection, the digital twin can be used to optimize the scheduling of all kinds of maintenance and repair tasks such as automatic scheduling of:
replacement of broken lamps
inspection and repair of emergency signs
Nobleo realized the prototype using its know-how in the field of (1) navigation and mapping (2) sensor fusion, (3) image processing and (4) deep learning. Nobleo demonstrated that warning signs could be localized automatically in the digital twin environment, after having annotated only a few images of warning signs to train the algorithms.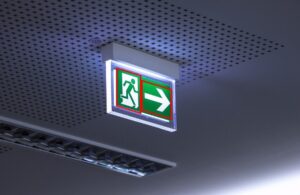 Please reach out to us if you are looking for:
point-cloud processing (for navigation or mapping or both)
deep learning and image processing algorithms
autonomous robotics and 3D navigation
object detection and tracking