Now any vehicle manufacturer can offer "autonomy advantages"
As proven by the first fully-autonomous farm tractor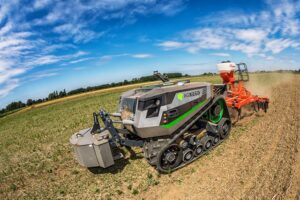 It's been a well-known secret for years: autonomous vehicles save money, increase productivity, minimise waste, and maximize safety for everyone. These are powerful advantages that will soon be differentiating all kinds of vehicles… from domestic lawn mowers to combine harvesters, from vacuum cleaners to oil-tank cleaning systems, from delivery drones to jumbo jets. Autonomy is set to shape the vehicle landscape for years to come. However, the technology to manufacture these systems as a commercial reality has remained just beyond reach. Until now.
"We're at the stage where all the building blocks for self-decision-making vehicles have been tried, tested, and proven," says Tim Clephas, chief engineer at autonomy specialist Nobleo Technology. "More importantly, the technology is not only proven, it is now highly affordable. It's the result of many years of collaborative advancements in areas such as vision technology, AI, robotics, and software. These advances have put autonomy within the reach of all kinds of vehicle system manufacturers. We're now at the tipping point where almost all vehicles will swiftly become intelligent, self-guided, totally safe and completely unmanned. And the manufacturers who adopt these advantages today will place themselves way ahead of their competitors. Overnight."
According to Gartner, the independent market research group, more than 740,000 autonomous vehicles will be introduced to the global market by 2023*. Western Europe, North America, and China will lead the way, because these regions have already introduced regulations governing autonomous driving technology. Which means that the race is on….to install autonomy.
First unmanned farm tractor – small machine, enormous benefits
One of our success stories is the new fully-autonomous farm tractor developed by agricultural equipment manufacturer AgXeed. The company introduced their unmanned tractor that not only provides the cost savings and precision that comes with autonomous operation, it also solves one of the biggest problems faced by today's farmers: the problem of soil compaction. 'The new tractor will include an advanced ecosystem that cloud-stores detailed maps and path-planning strategies for all the fields in which it is deployed," says Lars Schmitz from AgXeed. "This means that the tractor can follow the exact same driving lanes in each field year after year, thus minimising the curse of soil compaction. Moreover, because an autonomous vehicle can effectively work 24/7, a smaller tractor can be used for those large areas which previously necessitated very heavy-duty machines. And this weight reduction (five tonnes instead of 25) further minimises soil compaction."
Why did AgXeed choose Nobleo Technology to co-develop the tractor?
"We have a large portfolio of successful autonomous vehicles, as our website can attest," says Clephas. "So we have a great deal of experience in this area. But I think most of our clients choose Nobleo because we stick to open platforms and standardised subsystems. This means we can develop a completely new autonomy system using the developments we have already brought to market. You could say that a lot of what we provide is 'off-the-shelf'. But obviously it's not all 'click-and-place', every autonomous vehicle has its own unique set of challenges, and that's where our close-working relationship with our co-developers comes into play. For example, AgXeed knows tractor technology. They know best, for example, what the tractor is required to do at the end of a section, when to pull up the work tool, how to make the turn, set the tool down again and continue. They even know all about RTK GPS systems which provide high-precision manoeuvrability. But they decided to co-develop their driverless system with us because we are the specialists in autonomy for non-car applications. For example, we can advise on which navigation system is best suited to each particular environment. We have unique expertise in algorithms for sensing and signal processing. We know, for example, how to create an indirect-drive actuator with the benefits of a direct drive. And we know how to optimize actuator selection to balance the benefits of high force with the 'expense' of additional mass. These are some of the expertise reasons why AgXeed chose Nobleo. In addition, we also know that AgXeed greatly appreciates our short lines of communication with our engineers. When you can talk to the development engineers directly – rather than via a two-week email exchange – it dramatically and positively impacts on efficiency."
Why is this revolution happening, and who will it affect?
Autonomous vehicle technology has been a major research topic in the automotive industry for the last ten years. All the major car manufacturers have plans in place to introduce driverless cars. But the technologies developed in the automotive industry are now driving an abundance of applications in many other types of industries, including construction, mining, agriculture, shipping, aerial transport, and more. Autonomy solutions can and will affect the development and the performance of all mobile machines.
"These are exciting times," says Clephas. "The opportunities for vehicle manufacturers to make their systems more productive, safer, and more valuable are endless. And everyone at Nobleo Technology is dedicated to working with these manufacturers to make it happen."
Nobleo's Ferry Schoenmakers explains the project in this interview (Dutch).
*  Source: News release: https://www.gartner.com/en/newsroom/press-releases/2019-11-14-gartner-forecasts-more-than-740000-autonomous-ready-vehicles-to-be-added-to-global-market-in-2023
** Nobleo-Technology.nl