A hands-on approach to mechanical engineering
When designing proof-of-concepts or creating functional models, we like to get out of the drawing phase as quickly as possible and start making things tangible. We rapidly converge to qualified prototypes by repeatedly testing, verifying and refining propositions in close cooperation with our customers. 
Deep-seated expertise in mechatronics
Our deep-seated expertise in mechatronics covers a number of key areas: mechanical design (principles), finite element analysis (FEA), dynamics & control, electronics and embedded software. We frequently carry out modal analysis, FRF (frequency response function) measurements and controller design. As well as detailed investigations into disturbance, performance (often in relation to motion accuracy), system dynamics, control and functionality in the context of RAMS (reliability, availability, maintainability and safety) execution as a Design contamination (see below) and serviceability. 
In-house cleanroom
Our ISO certified in-house cleanroom is especially relevant for customers in the semiconductor industry. It is essential for us to be able to work, test and even pack items like prototypes in a low-contamination environment. 
Click the button below for examples of past projects, which tackle technological challenges ranging from sub-micron positioning to controlling test rigs with payloads weighing in excess of 70 tons.  
Nobleo Design Core
As you would expect, our systematic mechatronics approach – known as the Nobleo Design Core – covers all the steps of the product development flow. Contact and collaboration with you at every step is insured thanks to our structured, methodical stage-gated mechatronical approach. We simply don't follow a 'black box' way of working – transparency, co-creation and true partnerships are what we believe in.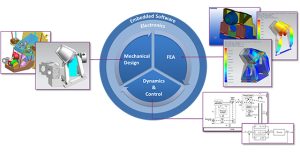 Nobleo High Tech Systems Design Core